January 17th, 2022

Ted Lasso Goes to Therapy

By Cameron Dearlove

A review about a television show may seem out of place on a mental health agency's blog - especially for a season of television that came out a few months ago (a seemingly contradictory choice which reminds me of when Ted Lasso character Jamie Tartt explains a decision he made by referencing the death of George Harrison and its affect on him; when it's pointed out that George Harrison had died twenty years before, Tartt replies that he'd just heard of it, so that fact didn't matter.)

The first season of Ted Lasso was full of good feels. The characters are not only loveable, they're also generally good. Whether it's Head Coach Ted wanting to save his marriage but ultimately learning to let go or team captain Roy Kent coming to terms with his retirement, we root for the AFC Richmond team because they deserve it. Season 1 launched in 2020 during our first pandemic summer, when the divisiveness around vaccines, ever-changing public health protocols, and millions of worldwide deaths were still to come. It was the feel-good show we needed to be reassured during the early days of the COVID-19 pandemic, so unsure about what the future would look like. It was a healthy distraction during dark times.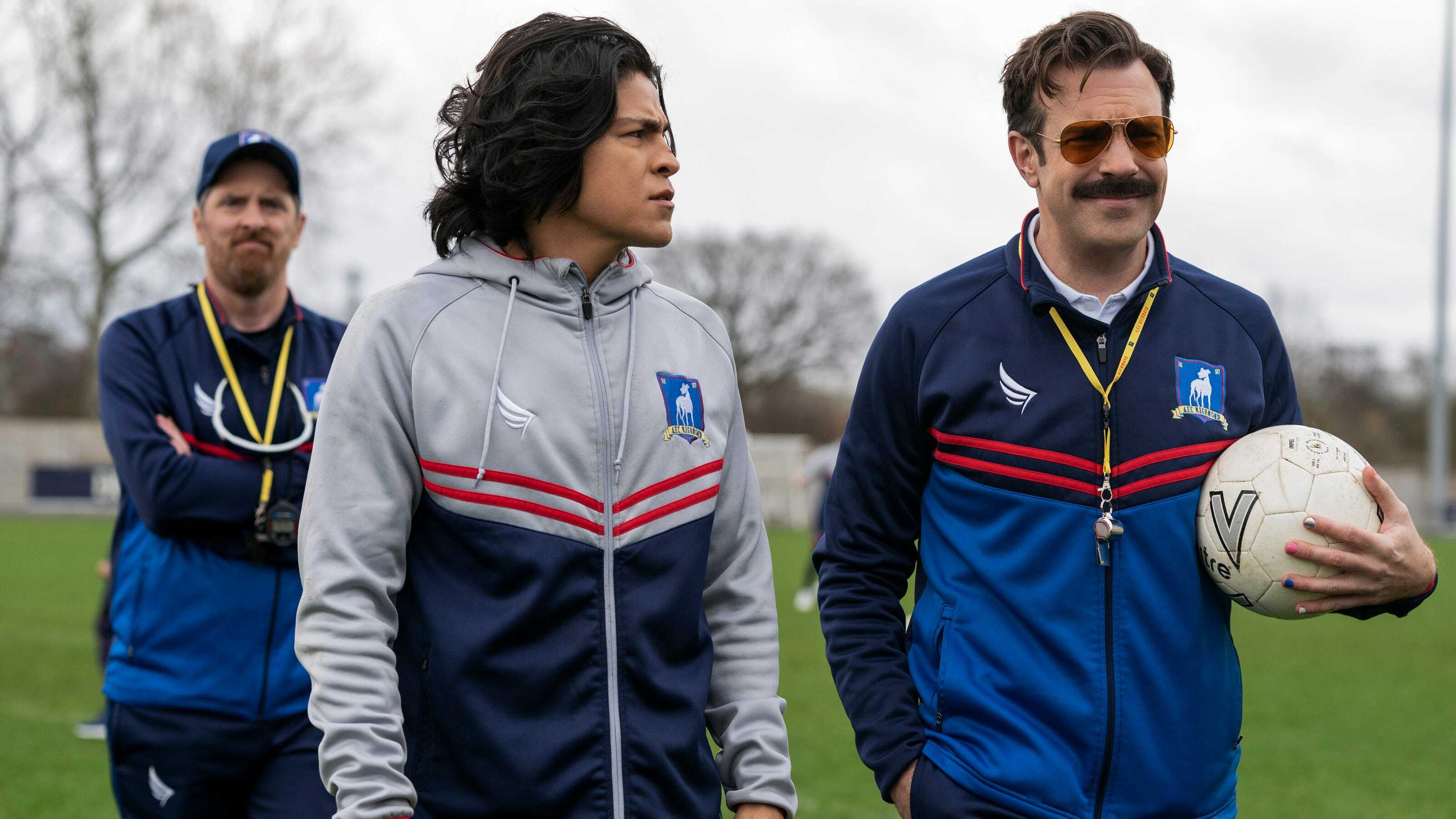 But Ted Lasso isn't a distraction anymore. Just as the first season was what our early-pandemic psyche collectively needed, the second season is as subtle as a new tie-dyed shirt - which, for the record, is a look I still sport.
In Season 1 the characters are swept up in the rapid changes they've all encountered, everyone simply responding to enormous pressures. Club owner Rebecca comes to terms with her divorce and eventually becomes close friends with Ted. Ted's players learn to trust each other, express their feelings, and come together when they ultimately lose an important match in the season finale. At the start of Season 2, life has slowed down. And those characters who had experienced a whirlwind of change begin to have time on their hands. They are working together over the long term towards a shared goal. Ted has settled into his role as Head Coach and has earned his team's trust. The characters become less and less able to ignore the major stresses, disappointments, regrets, experiences of trauma and loss, and everything else that life throws at each and every one of us each day.
Like the pandemic-wary culture we find ourselves in this January, where mental health issues are skyrocketing, the characters in Season 2 can no longer run from their problems. They must come to terms with the fact that their individual struggles exist not on the outside, but on the inside.
And the writers introduce a new character: Dr. Sharon Fieldstone, a sports psychologist who, despite Coach Lasso's quiet reservations, joins the team full time after one player had such stunning results under her treatment (For folks reading this who haven't seen the show, the Season 2 premier features an unfortunate penalty kick-meets canine mascot incident. Player Dani Rojas subsequently turns his mantra of "football is life" into the less hopeful "football is death"). As the team and coaching staff start the season struggling with their loss and the embarrassment of relegation, these pressures add to Lasso's own unresolved issues as he questions his actions and role as a child, a husband, and a father. An experience many of us can surely relate to.
And that's one of the many things that make this season of Ted Lasso a gift for our culture - one where so many are struggling through their own mental health experiences and breakdowns - as it is so very relatable. The comedy series continues to normalize experiencing mental health challenges, seeking support, and talking openly about it to those around you so that they have the opportunity to support you. Ted Lasso has been one of the only positive things in the lives of many over the past few years and I am looking forward to when Season 3 is ready.
But I sure wish I felt as comfortable as the AFC Richmond men talking about their mental health and seeking support. When Ted Lasso begins experiencing panic attacks, it felt so very familiar to me. Unlike Ted, I didn't get myself situated on a therapist's couch when I needed help - something which took Ted an awkward few minutes to do. Despite his reservations and repeated walk outs of early sessions, Ted starts seeing Dr. Sharon after a match where his stress reaches a boiling point. He begins to explore the sources of some deep-seeded tendencies and it is clear that unless he takes care of himself, he won't be able to be there for his players.

I didn't seek out this support after an 'episode' or two, or even a season. Instead it took me several years to both accept that I needed to seek support, and gain the courage to place a phone call and make an appointment. And then it took me several more years of trying different things before I found a therapist that was the right fit for me. But I'm awfully glad that I pushed past the voice in my head that told me I was not bad enough to need that kind of professional support (a voice I now recognize as a combination of internalized toxic masculinity and fear around asking for help). I believe seeking counselling - or other support or activity you find beneficial - should be seen as regular a part of maintaining our health as eating nutritious foods, having a primary care checkup, or wearing a seatbelt. Healthcare doesn't and shouldn't end at the brain stem.
And while I hope I haven't completely hijacked (or spoiled) Ted Lasso Season Two for you by making it personal, I do encourage you to give it a watch, talk about it with others, and continue to normalize the discussion of mental health.
I hope myself and the amazing team at Family Counselling Centre of Cambridge and North Dumfries will play an increasingly vocal role in a discussion our agency has been encouraging in our community for over 81 years.
And if anyone underestimates the impact this pandemic has had on our collective mental health, look only at the stunning increases in requests for service locally and across the province from a mental health support system that was already ringing alarm bells. Trust that if you are feeling a decline in your mental health and overall well-being from the beginning of the pandemic, know what you are experiencing is a normal human response. Things are really, really hard right now. And as a parent to a 6-year-old daughter, I feel for everyone who is unsure of what is going to happen in our schools and our communities with the pandemic this winter. Things don't have to be this way, and we need to prioritize our community health and wellbeing. Providing equitable access to professional therapy can make a big difference in helping individuals get through dark times like the ones we currently are living through.

It's normal to experience mental health challenges. What isn't normal is how many in our culture continue to deny their own experiences for fear the stigmas we humans are so good at creating. Mental health is normal to talk about. Seeking counselling and other supports is normal. And let's keep saying it until talking about our mental health happens as frequently as an expletive from recently-retired footballer Roy Kent. It should be easy to make an appointment with a therapist and all mental health supports should be adequately funded as a part of Canada's healthcare system.
Thanks Ted Lasso, for the laughs, and for this conversation.