December 17th, 2021

Fireside Chats with FCCCND: Saying Goodbye to Bobbye

December 16, 2021

The end of the calendar year brings both an acceleration of activity as we prepare for the holidays and a slowing down as we pause to celebrate. We take stock of the blessings in our lives and are hopefully able to spend time with our friends and family – whatever that means for you. We come together to share in the various year end festivities that take place in Cambridge and North Dumfries to mark the long, dark days ahead of us as winter begins.

The Winter Solstice used to be seen as a time for reflection. It is an end. No matter what this year looked like, we can all take comfort in the fact that a new one is about to begin. This brings a mix of feelings, from relief to joy to sadness as we move through the many stages of our lives.

Here at FCCND, we are preparing to say goodbye to someone who has been a central part of our work for as long as most of us can remember. Bobbye Goldenberg is retiring after serving as the organization's Executive Director for the last 17 years. We wanted to end the year by sharing some of Bobbye's reflections.

This post is the first in a series we are calling "Fireside Chats with FCCCND." Our organization was founded in 1940 when a group of community members came together to support local families who suffered loss of employment and the loss of family members as a result of the Second World War. During this period of global upheaval, American President Franklin Delano Roosevelt began connecting with people across North America through a series of evening radio broadcasts. These 'Fireside Chats' were conversational in tone and allowed FDR to provide comfort to listeners who were feeling anxious and uncertain. Our hope is that this series will build on that legacy by being personal and intimate, as we continue to navigate the impacts of COVID-19 on the mental health of Cambridge and North Dumfries.

While the pandemic means we have not been able to see each other in person much this year, our team had the chance to send Bobbye off with a small party on December 1st. We are thankful for the time we got to spend with her, and for everything she has given the organization over the years. Here are some of Bobbye's thoughts on her time at Family Counselling of Cambridge and North Dumfries and where the organization is headed next.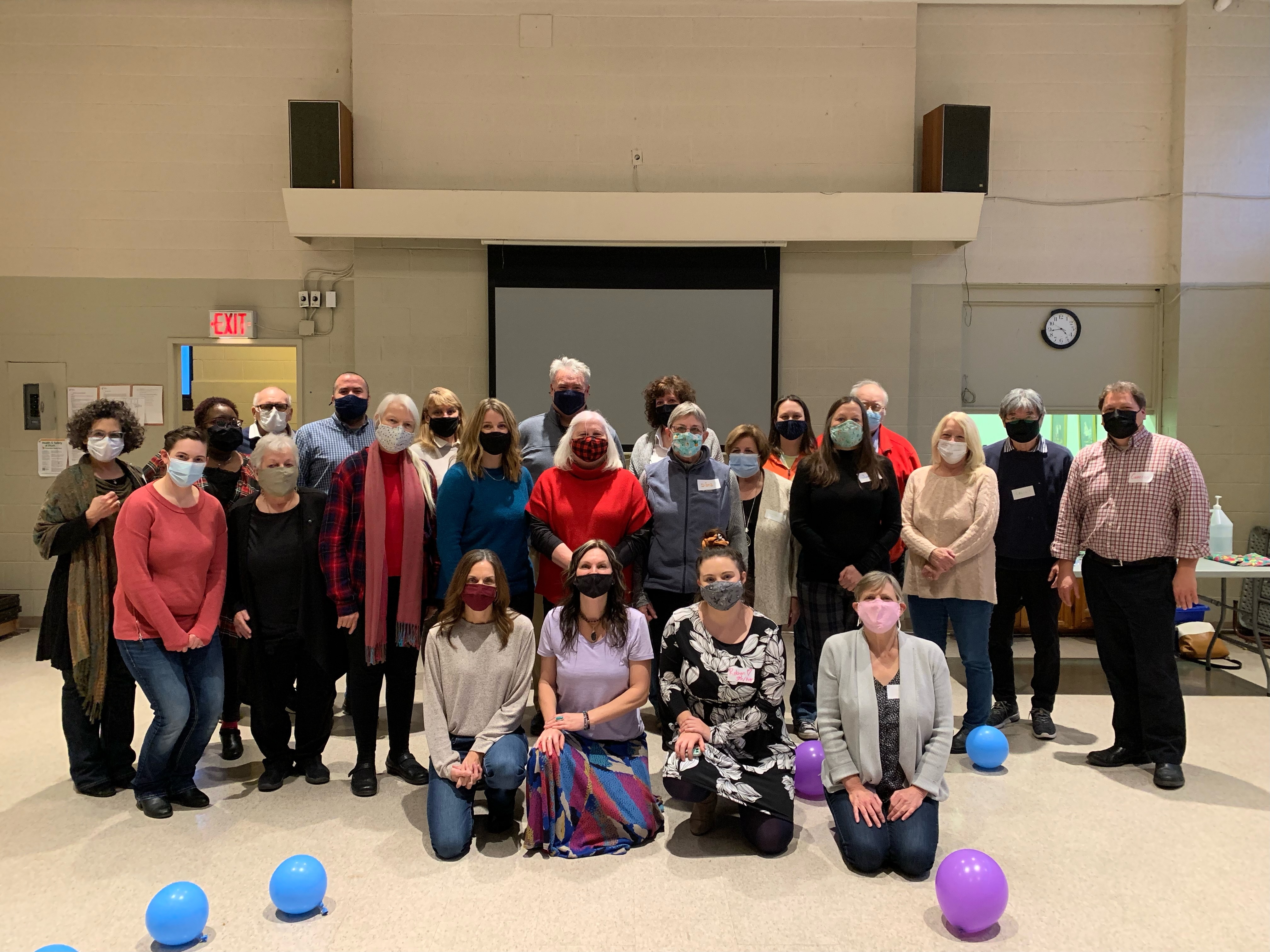 The FCCCND team and Bobbye's family at our December 1st Retirement party. Thank you to Wellesley United Church, the Local Eatery, and From the kitchen of Jason Santos for your help putting this together.

Looking back on your time with the agency, what has most surprised you in your role as Executive Director?
There are a few things: The breadth and depth of the potential impact not only on Cambridge and North Dumfries, but also on the Region and the province. The dedication and expertise of the staff. The increasing community need for mental health services and the need to create community awareness of that issue. And finally, the intensity of the work from writing funding grants and then the reporting to the need for community meetings and the development of partnerships and collaborations.

What would you say have been some of the biggest changes - both internally with FCCCND and externally in the Cambridge community - during your time leading the organization?

Financial – We were in a precarious position when I arrived, but remember that was 17 years ago. Our reporting systems were outdated and not utilized in a way that could provide verifiable information to potential funders and partners. We now have an updated system that enables our work to be conducted more efficiently and effectively. And we are operating "in the black"!!
Team identity – My message to staff was that they were the best kept secret in Cambridge and North Dumfries. I learned quickly that we were actually the best kept secret in Waterloo Region. Gradually this team of exceptional therapists, community support workers, and administrative staff have literally "put us on the map," through programs and services that attract clients across the Region – addiction services made up of two recovery homes and relapse prevention groups; "Taming the Dragon," an anxiety group for students in grades kindergarten through Grade 5; one of two agencies in the Region who provide psycho-educational groups for court-referred perpetrators of intimate partner violence; "lunch and learn" for older adults; Children's Wellness Hub in partnership with Cambridge Food Bank.
Community involvement - Our Board of Directors and committees have moved to intentional inclusivity and equity. We are a work in progress, and I am very proud of the steps taken toward ensuring the face of our communities are reflected in our governance structure.
Collaboration opportunities - We moved from a competitive role with other not-for-profit family service agencies in the Region to a real collaborative – The Counselling Collaborative Waterloo Region. FCC and five other agencies – Interfaith in New Hamburg, Woolwich Counselling in Elmira, Shalom in Waterloo, and Carizon and KW Counselling in Kitchener – now have a shared database and centralized intake for common funders, combined grant applications, even shared staff both clinical and administrative. We work at speaking with one voice.
What are you most going to miss about the FCCCND team?
The people – internal and external – thoughtful and challenging personalities – a shared vision – commitment – quirks – chats in the moment – tears of joy and loss – stories of kids and pets – potlucks and Christmas lunches - dreams – disappointments – new beginnings. Lots of wonderful memories.

And finally, how do you hope FCCCND grows from here?
Just like me, FCC is unfinished and working toward redirection. Not necessarily bigger but better – stronger partnerships - more quality programming to fit the needs of a diverse population – a return to system navigation – specialized therapists (child, art and play, gerontologist) - a location that supports groups, community meetings, addictions programming including our social enterprise, Harvesting Hope, step-down housing for recovery –inclusive services for Muslim community, new immigrants, racialized individuals and families, LBGTQ2S+ community – a diverse staff reflective of our communities.
Bobbye Goldenberg